If you use pickup trucks at your business, you should be aware that they are one of the most powerful representatives of your brand that you have. They not only need to look great — they should promote your business in the best possible light. Anything else is a big missed opportunity.
You keep your trucks in good shape. That should include the graphics on the truck advertising your business. In the same way that you don't want a rundown truck to be the symbol of your business to the prospective customers who see it, you don't want mediocre graphics on your trucks undermining the excellent job that you are doing for your customers. 
Wrapping your pickup trucks will ensure that your vehicles do much more than simply carry team members to jobs. They will capture the attention of prospective customers and carry your brand everywhere they go.
Here are some key benefits to know about pickup truck wraps.
Highly visible and mobile
Your pickup trucks are on the move in your community throughout the work week. You want to take advantage of that visibility. In fact, many customers and prospective customers will best know your brand from your trucks. Motorists are a captive audience, and they remember the vehicles that they encounter in traffic. That level of exposure is highly valuable, leading to thousands of impressions and a "stickiness" with customers that can be difficult to find in more customary forms of advertising. The fact that the trucks are out and about also signifies to potential customers that your business is active and busy — and that there's a reason for that.
Striking Design

A pickup truck wrap can distinguish your vehicle on the road, helping your brand stand out whether it's in traffic or parked at a job site or supply house parking lot. Wraps allow for a wide variety of memorable designs that draw the eye, whether that's with bold colors or sophisticated design or an unforgettable image. A pickup truck can serve as a sleek canvas for creative representations of your brand, ensuring your brand is never missed or forgotten. EQUIPT designers take advantage of every contour and feature of a pickup as an opportunity for design flourishes. The design should align with your existing branding to guarantee consistency and to prevent confusion among your audience. In that way, your trucks will support and strengthen your existing branding in impactful new ways.
Strategic
Pickup truck wraps are about more than just creativity, though. They are strategic opportunities to reach your audiences with key messaging that resonates with those on the road. That means slogans or catch phrases that you want customers to associate with your brand, but it also means critical information that your audience needs, such as the services you provide and contact information. EQUIPT designers can work with you to make sure your pickup truck wrap design matches how you market your company and does justice to what makes you unique in the marketplace. Clarity, as always, is crucial. Pickup truck wraps have the capacity to convey all of that information to customers in an instant without cluttering the message or making it confusing.
Options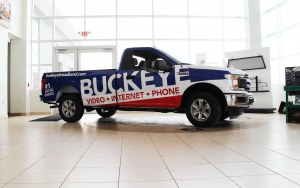 Depending on what's right for your budget and preferences, pickup truck wraps can involve either partial or full wraps. At EQUIPT, our professional design and installation teams make sure each wrap fits each vehicle perfectly. A partial wrap will emphasize the most visible parts of the vehicle, such as the rear and the driver and passenger side doors. A full wrap will turn your entire truck into a moving billboard for your business. Truck wraps also provide another layer of protection for your vehicles, and they last, ensuring your trucks look sharp and professional. 
EQUIPT Graphics often works with clients who want recommendations on ways to get more value from their graphics program, including for pickups and other trucks. We provide end-to-end graphics design, production and installation services for companies looking to brand their trucks with a professional graphic design. To find out more about wrapping your business vehicles, visit us at www.equiptgraphics.com or on Facebook or contact the EQUIPT Graphics Solutions showroom nearest you in Toledo, Ohio; Orlando, Florida; or Austin, Texas.