If you're like most business owners, you're always looking for new and innovative ways to advertise your company. And if you've been considering vinyl vehicle wraps as an advertising option, you're definitely making the right decision!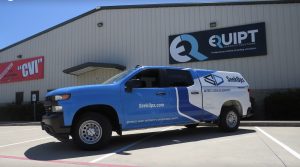 What is a vinyl vehicle wrap?
A vinyl vehicle wrap is a large piece of vinyl that is printed with your company's logo, contact information, and/or any other messaging you want to communicate to potential customers. The vinyl is then applied to your vehicle, making it into a rolling billboard for your business!
How are vinyl vehicle wraps installed?
The vinyl is first measured and cut to fit your vehicle. Once the vinyl is cut, it's then applied to the vehicle using a process called wrapping. Wrapping involves gently stretching the vinyl over the contours of your car and then securing it in place.
What are the benefits of vinyl vehicle wraps? There are a lot of reasons why commercial vehicle wraps are so popular and can provide a great value for your business, but here are just a few:
1) Vehicle wraps are eye-catching and grab attention.
No matter where your vehicle is parked or driving, vinyl car wraps are sure to turn heads and get people interested in your business.
2) Vehicle wraps are cost-effective.
When you compare vinyl car wraps to other forms of advertising, they are definitely more affordable and will save you money in the long run.
3) Vehicle wraps are durable.
Unlike other types of advertising that can fade or be damaged over time, vinyl car wraps are made to last. They can handle all kinds of weather conditions and wear and tear, so you can be sure that your advertisement will still look great for years to come.
4) Vehicle wraps are versatile.
You can use vinyl car wraps on any type of vehicle, from cars and trucks to vans and boats. And if you ever decide to change your mind about the wrap or need to update your information, vinyl car wraps are easily removable.
5) They can be customized to match your branding.
You can choose the colors, designs, and messaging that you want to include on your vinyl car wrap, so it perfectly represents your company.
6) Vehicle wraps provide long-term exposure to potential customers.
Unlike other forms of advertising that only last for a short period of time, vinyl car wraps can stay on your vehicle for years. This means that you'll have a constant marketing presence, which is great for building brand awareness and generating leads.
7) They're a great way to show off your work van or truck fleet.
If you have a fleet of work vans or trucks, vinyl car wraps are a great way to make them stand out from the rest. This can help you attract new customers and grow your business.
So if you're looking for a way to grab attention and show off your business in a big way, custom vehicle wraps are the perfect solution. They're affordable, eye-catching, and versatile, and they provide long-term exposure to potential customers. Contact Equipt Graphic Solutions today to learn more about how we can help you get started with this cost-effective marketing strategy.