Think about how many times a day you see a car or truck with some sort of advertising on it. Whether it's a large company logo, a slogan, or just the name of the business, outdoor vehicle advertising is an extremely effective way to get your message out there. And custom vehicle graphics are especially powerful; they can be tailored to specifically promote your brand and grab attention. So if you're looking for ways to market your small business, adding some custom vehicle graphics is a must.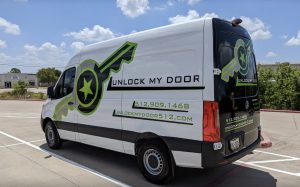 Not only are custom vehicle graphics eye-catching, but they're also relatively affordable. When compared to other forms of advertising, such as print or television ads, car wraps are very cost-effective. And because they last for years, you'll continue to get a good return on your investment long after the initial wrap is applied.
Graphics can be used to promote a business in a variety of ways
From simple logos and contact information to more complex designs that incorporate your company's colors, slogans, and images. They're an excellent way to grab attention and make a lasting impression – people are far more likely to notice and remember a vehicle that's been outfitted with custom graphics than one without any advertising at all.
Vinyl graphics are durable and can last for years – even when exposed to the elements.
They're also relatively affordable to apply and can be removed without damaging the paint on your vehicle, making them a great option for leased vehicles or those that you plan on selling in the future. For maximum durability, have your vinyl graphics designed an installed professionally.
There are many different types of vinyl graphics that can be used – from full-color wraps that cover the entire vehicle to smaller decals and stickers. You can also choose from a variety of finishes, such as glossy, matte, or even reflective. And with so many options available, you're sure to find a style that fits your business perfectly.
Vehicle graphics are a great way to reach new customers
Especially if you have a mobile business or one that frequently travels to different areas. By advertising on your vehicle, you'll be able to reach people who might not otherwise see your business.
They're also an excellent way to build brand awareness and create a professional image for your company. After all, first impressions matter – and custom vehicle graphics can help you make a great one.
Graphics should be designed by a professional for the best results
Working with a professional vehicle wrap company, like Equipt Graphic Solutions, means that you will have access to a design team that knows how to create eye-catching designs that are also effective marketing tools. If you're not sure where to start, we can help. Just contact us and we'll be happy to discuss your options and provide a free quote. Adding custom vehicle graphics is an excellent way to stand out from the competition.
If you're looking for a way to get your business noticed, custom vehicle graphics may be the answer. Equipt Graphics Solutions can help you create durable, eye-catching graphics that will set your business apart from the competition. Contact us today to learn more about our services and how we can help you take your marketing efforts to the next level!