When the folks at Alluriam Healthcare, Inc. wanted a van to turn into mobile advertising in October 2020, Chief Innovations Officer Ricardo Silva chose EQUIPT Graphics Solutions for the van wrap project because EQUIPT was so enthusiastically recommended by his trusted auto mechanic. 
When Alluriam needed two more vehicles wrapped, Silva returned to EQUIPT because of his own experience with them. He was mightily impressed with EQUIPT's bold graphics design ideas, precise installation, and incredibly convenient collaborative process. He knew they were the right choice. 
From the start, Ron Starks, EQUIPT's general manager and vice president for sales in Sanford, Fla., took interest in Alluriam Health Care as if it were his own business. 
"Ron became part of our team," Silva said. 
Starks and the EQUIPT designer worked with the Alluriam team, helping them create an attention-grabbing corporate image for the van, transforming their logo into a full wrap and incorporating fluorescent shades to make it pop.
"It was an awesome, awesome job!" said Silva.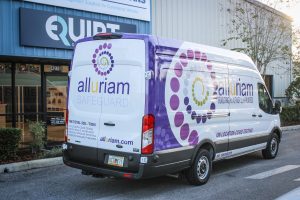 Starks introduced the Alluriam Healthcare team to Mullinax Ford of Kissimmee, where they bought the van, and to EQUIPT Graphics Solutions' close working partner, Advanced Work Vans, to design the van's interior upfit. Starks helped coordinate and streamline the upfit and wrapping, combining everything into one corporate process and project.  
Because the first van was a prototype, it helped the Alluriam folks learn what worked and what needed to be improved to help their team members stay safe, work conveniently, and serve their clients efficiently. By December, they needed two additional vans and wanted to wrap them and upfit them with the modified interior design and features.
"Of course, we returned to EQUIPT," Silva said. "Their extremely convenient pipeline that includes EQUIPT, Mullinax, and Advanced Work Vans saved us time, money, and effort. And the work they do is amazing." 
The first time, they purchased the van and paid separately for the wrapping and upfit, but the second time around, everything was included in Mullinax's financing mechanism, making it easier to manage.  
"We couldn't have done this without the collaboration orchestrated by EQUIPT Graphics Solutions," Silva said. "This all became a production line, a supply chain for us. It is very convenient that they all work together, especially the fact that we can actually finance everything in one package. It couldn't get better than that!"
And as the Alluriam Healthcare vans travel through the community, they are letting people know who Alluriam is and what they do: Building Healthier Communities. They provide health coaching, advice, counseling, and mobile COVID-19 testing to the uninsured and underinsured, gig workers, and small businesses such as restaurants.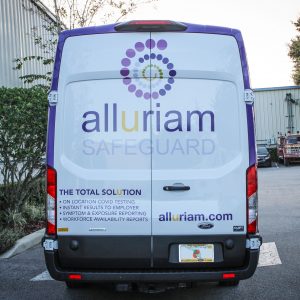 "Our vans are getting attention," said Silva. "They are moving, traveling billboards, very eye-catching. The lavender background, the multi-colored, fluorescent spiral that is our logo—you can see it all from far away!"
Silva and his team are extremely pleased with EQUIPT. "Everything has been awesome," he said. "I'm very happy we got the recommendation to use EQUIPT. It has worked great. Vans two and three are still working prototypes—I'm sure we are going to need more iterations and that EQUIPT Graphics will be there for us!"
To learn how easy it would be to turn your vehicle into a mobile marketing tool:
       

Call EQUIPT Graphics Solutions at (407) 349-3999

       

Email

Ron.Starks@EQUIPTGraphics.com

       

Visit the design showroom at 4275 Church Street, Sanford, FL 32771.
Discover how EQUIPT Graphics Solutions can show the world what you do!