Advertise Everywhere You Go!
Vehicle wraps, simply put, are mobile billboards to increase your brand awareness and boost your business. When you wrap your company car, van, truck, bus, or trailer, you are letting the world know who you are, what you do, and how they can contact you. The message is in front of every driver you come near on the roads and highways you travel. It is seen by people everywhere you park—in neighborhoods and supply house parking lots, at work sites, and when you stop for lunch.
The best part of wraps is that your vehicle will be in these places anyway, so why not put it to work for you by letting it spread your message? EQUIPT Graphics Solutions' creative team can make sure your vehicle grabs people's attention as you go about your day, as successfully while you are driving as when parked in front of a customer's house.
Can You Afford Not to Put Your Vehicles to Work for You?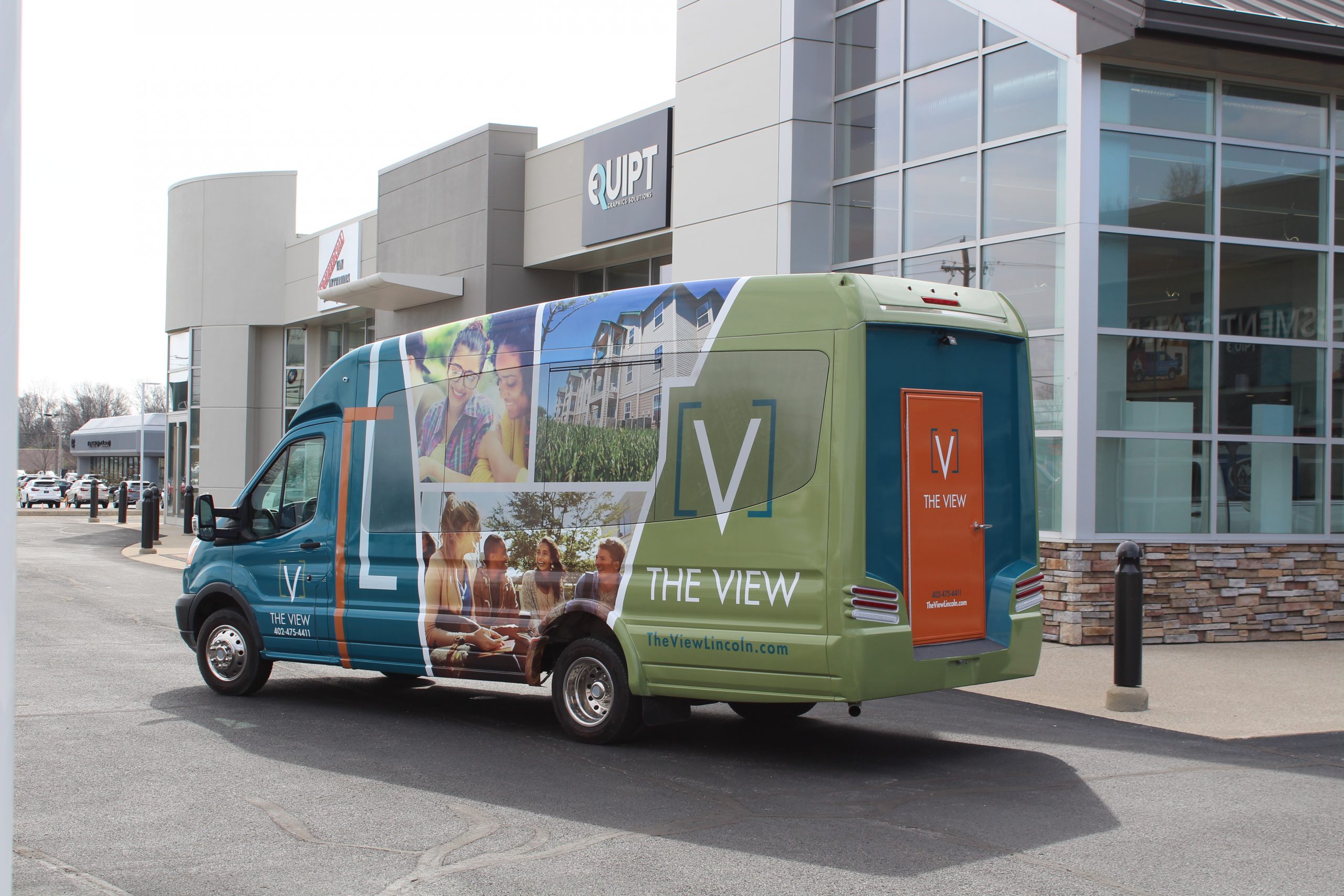 Our team can work with you to design an incredibly striking, eye-popping, durable wrap to advertise your business. Whether you have one vehicle or a fleet, press them into double duty as traveling signs that will last for the life of your vehicles.
Wraps are a once-and-done, but if your message changes, EQUIPT can rework it with the new information. If your vehicle door is damaged in an accident, we can reprint the same vinyl panel for the new door and reinstall it to match exactly.
We do more than wrap, we help you increase your business potential through our expertise with this effective form of marketing.
Are Wraps Good for Your Type of Business?
Vehicle wraps work for every business, yours included! EQUIPT Graphics Solutions provides marketing wraps for these and countless other industries:
Trades—plumbing, air conditioning and heating, elevator maintenance, painting and wallpapering, electrical, construction, auto glass
Communications—IT experts, cable companies, phone companies, security
Food—grocery chains, specialty vendors, food delivery, beverage companies, food trucks
Services—window cleaning, dog grooming, floristry, pool installation and cleaning, landscaping, excavation and demolition, fire suppression systems, hair salons
Retail—car dealerships, office supplies, furniture, pets
Transportation—trucking and distribution companies, tourist and party buses, shuttle buses for hotels, rental car companies, airports, universities, retirement centers
Education—schools, tutors, musical instruction
Non-profit organizations

What Should a Vehicle Wrap Tell People?

The best vehicle wraps show what you do with images stretched around your car, truck, van, or trailer. They should give your:

Name
Contact Information
Brief description of your goods or services
Mandated commercial motor vehicle markings and US DOT numbers

The information must be short and to the point, since passing motorists have only a second or two to see and understand your message. The design should use harmonious, attention-grabbing colors and graphics. Secondary text, printed smaller or blended into the background in fainter colors, may be included to provide additional information people have time to read when the vehicle is parked.

The goal of any marketing campaign, vehicle wrapping included, is to point potential customers to you and have them contact you. At EQUIPT, our job is focused on getting results for you.

To see the sensational wraps EQUIPT has created to help other businesses achieve their goals, click here.

Does It Matter What Kind of Vehicle You Have?

No and yes! EQUIPT wraps all makes and models of vans, trucks, trailers, and buses, so in that regard, it doesn't matter.

However, each wrap is custom designed for your particular vehicle. The professional design and installation teams at EQUIPT are meticulous about ensuring that the vinyl we create for you fits your vehicle exactly right. We take into consideration and take advantage of every contour and the shape and size of each opening to transform 2D images so they appear three dimensional. Our experienced installation teams make sure every job is done right, with no bubbles, tears, or orange peeling.

Save Time, Effort, and Money.

If you also need to upfit your vehicle, our close, on-site partnerships with some of the nation's foremost upfit companies enable us to be your one-stop shop for both services, saving you time, effort, and money. You'll get a quick turnaround, and you may also be able to finance your wrap, upfit, and new vehicle in one convenient loan.

To find out more about wrapping your business vehicles, visit us at www.equiptgraphics.com or on Facebook or contact the EQUIPT Graphics Solutions showroom nearest you in Toledo, Ohio; Orlando, Florida; or Austin, Texas. We hope to see you soon!