Imagine it's 105 degrees outside and you're in your vehicle, stuck in traffic. A van pulls up beside you, covered with an expansive photograph of a backyard swimming-pool oasis so refreshing, so real-looking you wish you could dive into it. You think it would be nice to have a pool in your own backyard. You glance at the name—Cody Pools—and promise yourself you'll look them up first thing when you get home.
That's the kind of exposure and response EQUIPT Graphics Solutions provides its customers: EQUIPT shows the world what you do.
Derek Medack, Warranty Operations Manager for Cody Pools, Inc. in Austin, Texas, was looking for an attractive, fresh, modern look to replace the tired, plain, flat-based design their vans had worn for 10 years.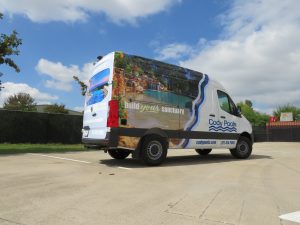 Sam Merkel, General Manager of EQUIPT Graphics Solutions in Austin, happened to visit the Mercedes-Benz of Georgetown dealership just after Cody Pools purchased three new, blank vans, and the sales representative mentioned the transaction.
Merkel went to Cody Pools, introduced himself and EQUIPT to Medack, and said, "EQUIPT is new in the area. Could you give us a shot and let us give you a quote?"
Medack then gave him a 30-second snippet of what he was looking for and said, "Our vans are going to production to get our normal, standard wrap in two days. If you can give me something tomorrow that I fall in love with, you've got our business."
The next day, EQUIPT delivered a design that blew Medack and his Cody Pools team out of the water.
"The way they took my 30-second, in a hallway, 'hey this is what I'm kind of thinking' and exploded it really impressed us," he said. The fact that it took only two days for the installation was remarkable, too.
"The gorgeous way their design updated and brought life to our brand—and their responsiveness and respect for my timeline—made me eager to work with EQUIPT. I'm already planning to have them wrap three more vans for our Tampa, Florida, Design Center," said Medack.
Cody Pools' "sales have skyrocketed this year and we've been extremely busy," said Medack. "Is it because people are seeing our vans on the road? I don't know. COVID is keeping people home, and when Cody Pools creates their dream pools, it gives them a revitalizing way to have fun at home and stay active. But I'm sure our vans' new look is making an attention-grabbing impression on the people who see them."
A quality product and top-notch customer service are EQUIPT's hallmarks, as testified to by Medack: "They're extremely helpful, personable, respectful of deadlines, and show up when something needs to be done. The entire team wanted to prove to us that they were here and willing to do an excellent job. Cody Pools' goal is taking our customer's vision and turning it into reality—and that's exactly what EQUIPT does, too."