Service, convenience, quality, and trustworthiness are why Scott Weiss, Fleet and Business Link Commercial Manager of Charlie's Dodge Chrysler Jeep Ram in Toledo, Ohio, always turns to EQUIPT Graphics Solutions for vehicle wraps and graphics.
"I trust the guys at EQUIPT to give me the price I want, the quality I deserve, and the service I need to operate my business efficiently," said Weiss, who has been with the 44-year-old dealership about 28 years and sells roughly 500 vehicles annually.
Convenience stems from EQUIPT Graphics Solutions' relationship with Commercial Van Interiors (CVI). The two businesses share a facility, making it seamless to have a vehicle upfitted and wrapped for Charlie's customers.
CVI picks up a van or pickup truck from Charlie's, upfits it with an inside package selected by Weiss' customer, and EQUIPT applies graphics to the outside. Within a couple of days, they return it to Charlie's, where the customer gets it and can put it to work immediately.
"My ability to give my customers a turnkey vehicle with high-quality, eye-catching, EQUIPT-designed graphics impeccably installed is a major selling point. My ability to make things easier on a business' decision maker puts me head and shoulders above the competition," Weiss said. "By using EQUIPT, my customers' new work vans and trucks can start to earn them money before they make their first vehicle payment. What could be better than that?"  
Trust is critical. Weiss unreservedly trusts the EQUIPT team to collaborate directly with his customers to design their graphics package, without worrying about them undermining his truck or van sale.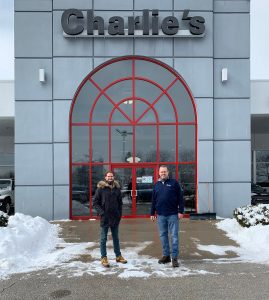 "Working with EQUIPT Graphics Solutions has measurably improved customer retention and owner loyalty," said Weiss. "Customers buy a van, they like it, they like the graphics. They call me and say, 'Duplicate the first one.' Or 'Duplicate the fifth one and add this.' EQUIPT makes it happen, making my life easier and adding to my customers' satisfaction and increasing the chances they'll continue to do business with me."
And if an EQUIPT-wrapped vehicle is in an accident, the customer can bring it to Charlie's body shop. The technicians call EQUIPT, and EQUIPT brings the graphics for the damaged section and installs it on the repaired or replaced part in the dealership's shop.
"Our customers are grateful for the one-stop, quick-turnaround service, and the fact that it looks like nothing ever happened," said Weiss.
Weiss has given EQUIPT a lot of work since EQUIPT Graphics Solutions opened shop in Toledo in 2016. EQUIPT has added vehicle graphics to and wrapped entire pickup trucks, vans, and ProMaster 3500 Extended Vans, put magnet logos on vehicle doors, designed banners for the dealership showroom, and created stickers for the lot and personalized license plate stickers for each salesperson.
"The EQUIPT team has turned into friends," he said. "I've been in the business a long time and know the advantages of working with reputable companies. I offer my customers good service, a good price and a promise to make their life easy, and that's exactly what EQUIPT and CVI have done for me."